DFW Ponds Inc
Backyard Pond Lifestyle Upgrade Contractor, Builder & Maintenance
Serving The Decatur, N. Texas, Dallas-Ft. Worth Area
All of Tarrant, Wise & Parker Counties
Pond-Water Garden Lifestyle
It's been a challenging day at work, but when you live the outdoor lifestyle, with a pond or landscape waterfall you don't stop at the TV. You keep walking through the kitchen and into your North Texas, Dallas, Fort Worth, Decatur, Tarrant, Wise & Parker Counties, Texas (TX) area backyard. You unwind with a cool beverage or glass of wine, tension leaves the back of your neck as you listen to the serenity of your own mountain stream and waterfall… just steps from your backdoor. Water features provide soothing sights and sounds that help our Dallas, Fort Worth, Decatur, Tarrant, Wise & Parker Counties, Texas (TX) area homeowners relax and de-stress in today's busy world. Lower your blood pressure and improve your physical and mental health as you prop your feet up and enjoy the therapeutic effects of Mother Nature.
The hardest decision to make is what feature would complete your dream backyard. There are many options, such as: ecosystem ponds, Pondless waterfalls, Fountainscapes or even rainwater harvesting. In the creation of your personalized water world, don't settle for anything less than perfection. If you live in the Dallas-Fort Worth, Texas area, DFW Ponds Inc. has a highly dedicated and qualified team that awaits the opportunity to make your yard the topic of conversation among envious neighbors, contact us today!
Master Pond & Maintenance Contractor, Trey Bradley, owner of DFW Ponds Inc. serving the Decatur, N. Texas, Arlington, Ft. Worth, Tarrant, Wise & Parker Counties, Texas area, believes that when you have passion for what you do it shows in your work. We are not a "jack of all trades" landscape company for whom water features are but a small part of our business. You can be sure that the quality of our work will reflect our 100% committment to water features. We strongly believe in "Ponds Done Right, Customers Served Right". We pride ourselves not only on our installations, but our years of continued dedicated service to all our customers.
We enjoy all aspects of water gardening (well maybe not the digging) and love to share that enjoyment with our customers. As we are Certified Aquascape Contractors (CAC's) you can be sure that you are getting one of the most knowledgeable and fully trained companies in the country to install your water feature for you.
A Little About Us At DFW Ponds Inc.
Life's daily trials and tribulations wash away with the sound of water. Moving water always attracts the eyes and ears, luring you to it. It is human nature to explore this sensation, so that it soothes you in that very moment. As you read this, did your mind's eye wander to a particular feature? Did you picture yourself in front of it, perhaps with a loved one? In the split second of answering this question, did you feel your heart rate drop? Did you feel your worries lessen? This "split second" is what we grasp and share in what we call "Living the Pond Life."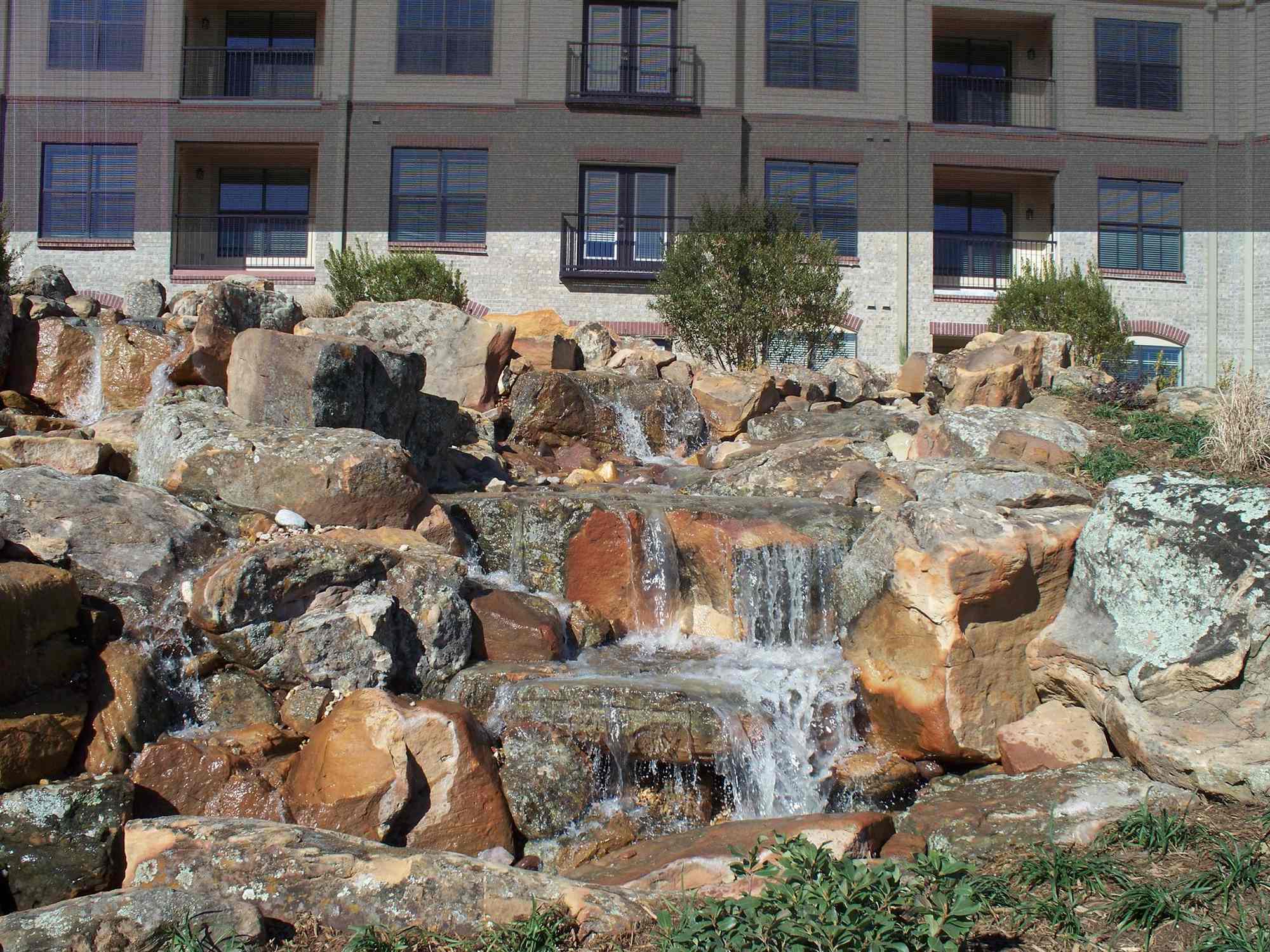 DFW Ponds Inc
Informational Links On The Web