Put's Ponds & Gardens
Ecosystem Fish/Koi Pond Design & Installation Contractor
Serving Macomb & Oakland County, Michigan (MI)
Backyard-KOI Pond Installation
Backyard Fish Pond Construction
We build our ponds in Macomb & Oakland, Michigan (MI) to work with mother nature, not against her. By doing so, we have less pond maintenance, allowing us to enjoy the benefits of the pond, instead of having to work on the pond. By building your water feature to perform as an ecosystem, nature is at the heart of the water cycle, not man. As a result, the root systems of pond plants filter the water, natural bacteria breaks down organic matter, and pond fish eat the algae. No chemicals or other devices, just nature, doing what nature does best.
At Put's Ponds & Gardens we offer a wide array of water feature installation services, from ecosystem ponds, pondless waterfalls, fountainscapes, to maintenance services like, pond cleaning, repair, algae control, and water feature renovations.
CONTACT US to learn more about our services.
We Install The Aquascape Ecosystem
With the proper balance of pond fish, pond plants and healthy bacteria present, not only is pond maintenance reduced, but water quality is enhanced. In the end, we have a water feature that not only looks better, it is better, both for the natural habitat of fish and birds and other creatures that are drawn to water in nature, but for us as well, as we now will have more time to enjoy it, with family and friends.
One pond, in one Macomb & Oakland, Michigan (MI) backyard may not seem very important, but when you have a thousand similar backyard ecosystems functioning simultaneously, there's truly a positive impact being made on the environment. Large amounts of habitat are restored for frogs, toads, newts, and salamanders. The population of each of these creatures has been declining sharply for many years now. Birds have also been driven from many of their natural wetland habitats, which they need so desperately to survive. Your pond will provide a safe haven for these creatures and add a welcome diversity to our stressed suburban environments.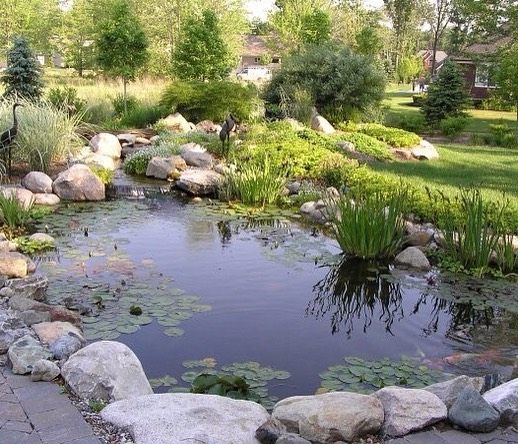 Put's Ponds & Gardens
Informational Links On The Web